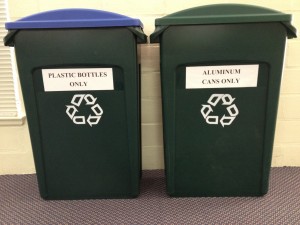 STEWARDSHIP OF CREATION
The Christian Education Team recognized the need to learn and to teach about one of the essential tenets of the Presbyterian faith that recognizes that all humanity has the responsibility to care for one another as well as for all of creation.  The team began the education process of raising the awareness of the importance of stewardship of creation by doing a theological video that was also humorous:  Let the Church Go Green.   The video may be viewed online at http://www.youtube.com/watch?v=hzROgNijAN8.
As part of our environmental stewardship, we at FPC Henderson have begun a recycling program for cans, plastic, and paper with recycle containers around the church.  We are slowly replacing incandescent light bulbs with fluorescent ones, using recycled copy paper, replacing foam cups and plates with paper ones or using ceramic ones.  We mulch flower beds to conserve watering, raise thermostats and turn on ceiling fans, regularly change filters on heating and cooling units, and partition off parts of the building when not in use to conserve energy.
Stewardship of Creation can never only be environmental.  It must also address social injustice and poverty and the suffering of all creation.  After looking at how we care for one another and the world we live in, we should be able to step back and say "This is good."  Caring for all of creation is how we show our love for the Creator.